St. Charles Home Show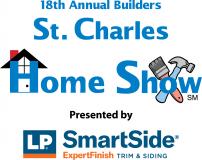 Apr 14 - Apr 16, 2023
St. Charles Convention Center
One Convention Center Plaza
St. Charles, Missouri 63303
Show visitors can see, learn about and buy the latest home products and services from 250 companies in approximately 70,000 square feet on two levels.
The Show offers free admission and free parking. Top-notch celebrity speakers and fun features make the show a must-see. The area's top home improvement and building professionals will have their newest products and design ideas on display. This Home Show is a quality event with a wide range of products and services: windows, doors, fencing, siding, decks, spas, gardening equipment, patio rooms, kitchens, baths and so much more. Countless experts will be on hand to offer ideas, advice and answers to all of your home improvement questions and concerns.
Whether you are looking for the perfect home product or a great contractor, the Show can help!