This Is Your Garage…On Steroids
---
Tweet
---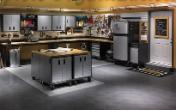 OKAY. If you want to see amazing garage transformations, check outThe Garage Design Center, St. Louis. It's what your garage would want to look like if it won the Extreme Makeover Home Edition!
Dale Heuvelmann is the owner of The Garage Design Center. He and his gang will be at the St. Louis Builders Home Home & Garden Showthis week.
Sometimes it's hard to think up everything you'd want to change about your garage in a complete garage makeover (other than get the kid's bikes out of the direct line of fire). Dale takes the "just put it in the garage for now" philosophy to a whole new level. With garage cabinets and storage systems, those bikes, ladders and holiday decorations now have a real home. Your garage becomes an organized space you never thought possible!
For DIY garage storage, they work with you to put together a garage storage system that not only fits into your garage but also into your budget. How important is THAT, these days??
Don't want to tackle a project this big yourself? No problem, The Garage Design Center will come to your house and help you come up with a digital drawing.
Once the garage design is complete, they will begin the installation and remodeling of your garage, while you sit back, relax, and know that your garage organization project is in good hands.
For Harley fans, The Garage Design Center offers officially licensed Harley-Davidson garage organization systems, roll around tool chests, and tool boxes. You should see these cool tool chests. My husband would lose his mind! (I guess I'll have to come to the Home and Garden Show alone. Heaven knows what would happen if I let him speak with Dale!) Dale carries enough Harley products to create a virtual Harley paradise. He'll help you make all your biker friends jealous!
The newest and coolest thing going right now is epoxy flooring. It's industrial strength, professional grade and as Dale says, there is NO comparison to do it yourself flooring of this nature which can be bought from hardware stores.
The Garage Design Center people come in with a grinder, which helps to prepare the floor. If there are any cracks or imperfections, they fix them. The 2nd day, they lay the epoxy down. And on the 4th day it can be driven on!!!
Epoxy is easy to clean. If any fluids spill on it, you simply wipe them up. You cannot see dust or dirt on it, and it comes in 8 colors and with a warranty. From what Dale says, everyone is having these floors put in their garages!
Originally posted 2009-02-26 13:35:48. Republished by Blog Post Promoter