Patio Enclosures Create a Bug-Free Link To Nature
---
Tweet
---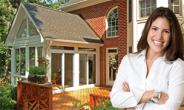 I believe the environment you wake up to and come home to needs to vibrate with who you are.
Your home is the backdrop to your life. A place to sleep, eat and–whether you realize it or not–it's also a place to reenergize, hide out from the world and be yourself.
The addition of a sunroom connects your home and you with the outdoors, giving you that sanctuary that you're looking for.
I have clients who ask me to define their style and, in essence, to define them. They want to know if they are Traditional, Modern, Classic or Contemporary.
Maybe years ago you had to place yourself into a category. But today we have many more needs that must be met in this hyper-sensitized world, and there's no reason we can't have a little of everything. That's what makes your space unique. We are all different. And having options lets us tailor things to just the way we want. It's the details that connect you to your space.
A Sun Room Enlarges the Living Space in Your Home
A Patio Enclosures sunroom lets you customize every design option to your specification, from the floor to the shades and everything in between.
For instance, a great way to make your space seem larger is to pick an indoor/outdoor tile that can be used on an outdoor patio and continues into your new solarium or sunroom. It is also a functional choice as you can come in the sunroom with wet feet without worrying about ruining the floor. This creates a space that draws the organic outdoors into the comfortable indoors. Patio Enclosures creates such a link—your connection to nature, without all the bugs.
A sunroom's plentiful screens and glass keep the bugs out while inviting the sunshine in. Lighting plays one of the most important roles in your home. It alters the mood in the blink of an eye. You can soak up every bit of the sun's energy with edge-to-edge glass.
Decorate with your favorite furniture when it's protected by a high-performance Low-E coating that significantly reduces sun damage via fading from harmful UV rays.
Entertain guests after the sun goes down using a chandelier controlled by a dimmer so you can easily adjust light levels. Add additional layers of lighting for different functions, like table lamps for when you want to read. By adding layers, you're balancing the light distribution and introducing overall warmth to your surroundings.
Flexibility is invaluable in the world we live in. Our homes must work double time to support our wants and needs. My home is my sanctuary and if yours is not, what are you waiting for?
Blanche Garcia is the spokesperson for Patio Enclosures, Inc. She specializes in "Green" design, and is a LEED Accredited Professional through the United States Green Building Commission. With her "no client too far to reach" approach, her client base is local and international. Her work has been featured in "Design NJ," "New Jersey Countryside," "New Jersey Monthly," and also appeared on "MTV Cribs."