Maintenance-Free Vinyl Fencing
---
Tweet
---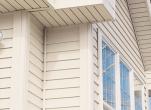 Deciding to build a fence might just be the easiest part of the fence building process. Once you decide you need a fence, you then have to decide what kind: Wood? Vinyl? Stone? Chain Link? Chicken Wire? Okay, just kidding with that last one. It pays to choose the type of fencing that will work best with your landscape, needs, and maintenance abilities. After all, you want the fence to work for you, not the other way around. Tim Kelly, co-owner of
Maintenance-Free Outdoor Solutions
(MFOS) of Arnold, MO, has some pretty strong opinions about the type of fencing that makes the most sense for any setting. His company, founded in 1994, specializes in a variety of fence, deck and railing products for residential and commercial use. When asked about new products for 2009, Tim practically bubbles over with excitement! If you ever wanted a stone fence, but were shell-shocked at the price of a real stone wall or concerned about the damage that could be done to your property during installation, then Tim wants you to know about
SimTek
Fence's "Simulated Stone Fence." This fence has the look and feel of real stone without the hassle and high cost of installation. A simulated stone fence is also fade and impact resistant–a great plus if you have kids (or neighbors) who like to throw things around. This fence is also a superior soundproofing product, and offers thermal stability. A final, but interesting, fact about this fence is its ability to resist graffiti. If vandalized, the paint will come off with a pressure washer and a little bit of elbow grease. It can be installed with little or no damage to the surrounding landscaping. Wood Look Vinyl Fencing If you're not into stone fencing, how about a wood-look vinyl fence? Bufftech, a leader in the privacy fencing industry, offers the Chesterfield with CertaGrain™, which provides the durability and maintenance-free properties of vinyl with the look and feel of woodgrain (minus the splinters). The Chesterfield with CertaGrain offers exceptional impact strength and fade resistance. It also will never rot or decay, unlike real wood, nor will it ever need painting or staining. You have a variety of colors to choose from – colonial white, natural clay, autumn brown or sierra blend, a color that mimics the natural beauty of stained cedar fencing. Choosing a company to partner with when purchasing a maintenance-free fence can be confusing, and the wrong choice could lead to a fence replacement much sooner than expected. Tim recommends the following when shopping for a fencing contractor:
Don't base your fencing decision solely on price. A low-budget fence might look good today, but it may not withstand the test of time. When making your choice, consider the product quality, installation method and company reputation, stability, track record and experience.
Don't assume that vinyl fences are inferior to other fencing products. Vinyl fencing has come a long way, and today's products are more durable, fade and impact resistant than fences of the past. If your impression of a vinyl fence is of a poorly installed or older fence, Tim recommends you acquaint yourself with today's products. You will be surprised.
Take the time to understand the fence building process. If you're dealing with a contractor that won't or can't explain the installation process or the specifics of the fence you'd like to purchase, you might seriously want to consider going somewhere else. Tim and his team pride themselves on being an "education company." This means their estimates will likely be longer and more detailed than other companies' bids, because they want their prospective client to know "everything there is to know" about their upcoming fence project. And there are no high-pressure sales tactics at MFOS.
It's a good idea to get a stake survey of your yard before a fence installation to avoid future property line disputes.