How to find the best exterior painters
---
Tweet
---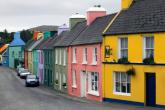 Painting the exterior of your home is one of the quickest and least expensive ways to spruce it up. A fresh coat of paint can change the whole appearance, whether you're going for a traditional look or trying out a new, creative decorative finish. And with an ever-increasing array of color choices and finishing techniques, your options are endless. Here are some things to keep in mind when you're looking to hire an exterior painter:
When it comes to paint selection, you get what you pay for. Better quality paints give you more square footage per gallon, longer life, easier touch ups and better results.
The rule of thumb for exterior painting is to wait until the evening temperatures are 50 degrees or above. Very high humidity can be tough on the product however. In warmer climates, exterior painting can be done year-round.
Ask if the company provides color consultation, and if so, is it an extra charge?These days, there's a paint for every siding, including vinyl and aluminum.
To keep the exterior looking great, professionals recommend painting every 5-10 years, depending on area of the country, type of paint used, siding material and weather conditions.
In Columbus, Ohio, taupes and creams are very popular for siding with dark brown as an accent on shutters and doors. In Tampa, tan exteriors with red doors are hot. In New England, historical colors are the rage, especially taupes and greens, while in Portland, it's green with cream accents.
Preparation is key — the exterior should be properly washed, scraped (if there is old paint), sealed and windows covered prior to painting.
Ask the company whether it uses subcontractors or employees.
Make sure the company is licensed (if applicable in your state), insured and has workman's comp.
Ask for a list of recent customers in your area and drive by to see the work for yourself.
Ask for an exact quote, not just an estimate.
If your home was built prior to 1978, odds are the exterior was painted with lead based paint at one time or another. Lead test kits are available at most hardware stores. It is recommended that professionals deal with lead paint removal. This is especially important if you are scraping or sanding the old paint, as the dust it creates is especially dangerous.