How to extend the life of your HVAC system
---
Tweet
---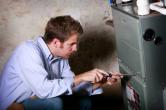 Checking air filters at least every two months and changing them when needed prolongs system life. EPA suggests using the highest-quality filter recommended by your manufacturer.
The National Air Duct Cleaners Association says not to skimp on price; better filters block more particles and last longer than cheap ones.
"You can go to the hardware store and choose between a good $20 filter or a blue stringy one for 69 cents," Sheppard says. "You can practically see right through them. Our guys call them bowling-ball catchers, because smaller particles are going to blow right through."