Could You Pick Today's Modular Home out of a Line Up? (We Think Not!)
---
Tweet
---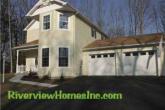 Jeff Held would like you to have a better understanding of manufactured and modular homes. Why? Because his company,Riverview Homes, is the premier provider of "quality family-affordable homes" in western Pennsylvania.
According to Jeff, "We can do anything a home builder can do, we can do it for less money, we can do it faster and, in a lot of cases, we can do it better."
In business since 1970, they've been educating consumers and providing high quality homes for purchase while also impacting the manufactured and modular home industry by working with federal, state and local government officials and lawmakers to make sure their manufactured and modular homes meet or exceed these governmental agencies codes and regulations.
I got curious and decided to do a little digging to better understand the differences between modular homes and those that are site-built (those built right on your lot, hence "site-built"). It's pretty interesting stuff – especially if you're in the market to buy a new home, but find the cost of site-built homes out of your price range before you even get started.
This article will focus on modular homes. My next article feature Riverview Homes' other offering: manufactured homes.
If you're looking for a new home, but can't afford what on-site builders are offering, you owe it to yourself to investigate modular homes. Set aside any preconceived notions you might have about these sectional homes–it's nearly impossible to see the difference between these and site-built homes, especially since they're permanently attached and basement-capable. As the name suggests, modular homes are built in sections at the factory, then transported to the building site and assembled. It's similar to building a really big Lego house (although not as hard because you don't have as many tiny pieces).
The cost savings of building modular home can be from 10% – 35% over a similarly sized site-built home, in large part due to the volume discounts modular home builders enjoy from their materials vendors. These savings are passed on to the prospective homeowner.
Cape May offered by Riverview Homes
Another plus for modular homes is that, since the sections are fabricated indoors, weather doesn't impact that part of the building schedule. Modular homes can be built more quickly, and the work needed to prepare the building site can happen at the same time as the home sections are created in the factory. It's not unheard of to go from the initial financing and design discussion to a finished home in 120 days. Try doing that with a site-built home!
If you're wondering about the sturdiness of modular homes, they must be built well since they often travel great distances via tractor trailer to get to their final destination. By the time the home is assembled, it's just as sturdy as a newly site-built stick (wood) home. Modular homes do appreciate in value, just as site-built homes do. This means you'll continue to reap the benefits of your modular investment as the years go by, in addition to their structural permanence.
So, if you're in the market for a new home at an up to 35 percent upfront discount, set aside old notions you may have about modular homes and see what's new for yourself. Jeff Held of Riverview Homes has brag books of pictures to help convince you that you'll be pleasantly surprised.
Originally posted 2009-07-03 09:00:31. Republished by Blog Post Promoter