Blending Fun for Families: Nutritional & Easy
---
Tweet
---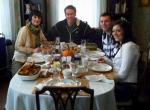 As a busy father of four, I'm always looking for ways for my family to have an easy and fun activity that everyone can enjoy in the comforts of our own home. One of the highlights of my life is coming home to Friday Family Night. I love spending several hours with my children and relaxing after a long week of work.
As a family, we sometimes grow pretty tired of the classic family night activities. Whether it's Movie night or Game Night, we love the time spent together. But we're always on the lookout for new activities that are versatile for any age group and fun.
A recent activity I discovered that has my kids really excited for Friday night is the Family Smoothie Night. I never realized what an easy activity making smoothies is when you have four small helpers and a blender. Best of all, smoothies are nutritional and even educational as I have a chance to teach my kids the importance of fruits and a balanced diet.
Fun Smoothie Ideas
The best part about Smoothie Night is that it only takes a blender and several ingredients to have fun. And almost any kid of any age can enjoy this fun activity. My kids love to tear things up. What's more therapeutic than chopping and blending all sorts of ingredients to see what sort of drink they can create? Smoothie Night encourages my kids' creativity and lets them make a mess with a great drink at the end.
My family is a Cuisinart family. From our Cuisinart four-slice toaster to our Cuisinart instant single-cup coffee maker to our blender, we rely on Cuisinart because their appliances work for a long time and can handle the abuse children inflict on them. No matter what brand blender you use, make sure it's sturdy and able to run for several drinks.
Here are some classic ideas for your own Smoothie Night:
Banana Split and Chocolate Syrup
Strawberry-Cranberry and Chocolate
Raspberry and Strawberry Milk Smoothie
Instant Coffee Smoothie with Bananas, Strawberries or Chocolate
Bubble Gum ice cream and Chocolate Syrup Smoothie
Cinnamon Vanilla Milk Smoothie
Educational Smoothies
One of the best things about Smoothie Night is that my kids can mix almost any ingredient and learn how it impacts taste. I also take the opportunity to teach my kids about the importance of fruits in their diet. They love fruit now, especially when it tastes so good in a nutritional calcium-rich milkshake or smoothie. Best of all, cleanup involves a warm wet rag and the dishwasher, which makes Smoothie Night simple for my wife and I (no 2 hour cleanup of glitter, glue or game pieces).
Another great result from Family Smoothie Night is the leftover smoothies that my kids can drink as a dessert throughout the week. Unlike the sugar-rich carbohydrate-packed bad desserts, smoothies have good carbohydrates and lots of nutrition that kids need for healthy growth. While I certainly can't drink smoothies like my kids and stay the same weight, I love knowing my kids are getting the nutrition they need without a fussy argument about eating fruits and vegetables!
About the Author: Mike Rocha is an engineer from Florida with a passion for food and the Cuisinart brand. As an engineer and hobbyist chef, he uses and stands by Cuisinart not just because of the name, but the ingenuity, quality and functionality that they represent. Being an electrical engineer who designs and develops medical imaging systems, Mike understands more than most what is necessary in creating these advanced appliances. Check out his website for reviews on Cuisinart 4-slice toasters and Cuisinart automatic coffeemakers.