Backyard Playset Is More Than Outdoor Swings
---
Tweet
---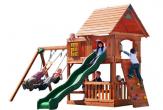 A custom-made, quality play set can turn your backyard into an adventurous playground!
With a struggling economy, many families are opting for a "staycation" instead of the annual trek to a theme park for a week. And, with the money saved, they're choosing to invest in a lifetime of fun by buying a backyard play set.
When selecting the right plays set, the professionals at Recreation Unlimitedrecommend considering not only the age of your child now, but picking a system that will retain their interest as they grow. They sell Rainbow Play Systems, which are designed to last a lifetime.
At Rainbow Play Systems safety comes first…always. Headquartered in America, every Rainbow set is constructed of the highest quality materials including North American Timber, dual-bolt construction and commercial-grade hardware. The company also offers a warranty, nationwide delivery and factory certified professional installation.
A quick look at their website, shows that "Rainbow Play Systems is where imaginations soar!®" It's easy to glance over all the choices and to design the perfect wooden play set for your family. The basic systems are pictured and it's possible to add any number of fun options and accessories to create childhood memories that will live on forever.
Childhood experts say that as children play with other children they have the opportunity to stand up and be a leader. They have the opportunity to express their opinions and ideas. They can even change their ideas for the better, as they develop team building and problem-solving skills. Each one of these activities will stand them in good stead as they enter the adult world.
Play develops imagination, it develops an ability to go with change, and it gives plenty of opportunity to develop character traits such as perseverance, kindness, empathy and more as children spend time with each other.
Build Your own Play Swing Set
Concerned that you don't have enough room for a play set in your yard? Or that your yard is too sloped to accommodate a swing set?
Before ruling out a play set, ask if the manufacturer offers a space-saver option, which means that the footprint of a set can be made smaller by taking off the typical swing beam and adding a space-saver swing beam.
As for sloped yards, some manufacturers have extension pieces that can be added to the set to make it a bit longer and more able to accommodate a slope. Additional enhancements to a swing set include a cabin or castle feature for children to really nestle in and make the play set their own.
Make sure the construction quality is sound and the materials used are durable and your recreational amenity should provide your family with years of backyard enjoyment!